Electronic Press Kit
BALANCED ROCK is a five-piece rock band based in Colorado Springs, CO founded in 2011, have been performing at music venues in the Pikes Peak Region as premier recording artists in Southern Colorado.
BALANCED ROCK's brand of original music draws inspiration from their deep roots in music. The band's music repertoire includes their sizzling renditions of Classic Rock cover tunes, delivering a dynamic and memorable musical concert performance!
BOOKING INFO: (719) 424-0379
BALANCED ROCK silhouette logo.
AUDIO SAMPLES
Listen to audio samples from the BALANCED ROCK album Urban Myths available on all major digital music outlets.
Released in 2022, the 10-track full length album showcases the band own signature sound incorporating elements of rock, pop, metal and jazz experimenting with new styles in their musical repertoire.
MUSIC VIDEO
Watch BALANCED ROCK music video Bite The Bullet, featured on the Urban Myths album was shot on location at the scenic Red Rock Canyon Open Space in Colorado Springs, CO.
UPCOMING CONCERTS
BALANCED ROCK will be the Special Guest opening up for Starburn at Stargazers Theatre at 10 Parkside Drive in Colorado Springs, CO 80910 on Friday September 8, 2023. Doors Open @ 6:00 Show @ 7:00 pm.
Broadmoor Community Church – Summer Concert in the Glen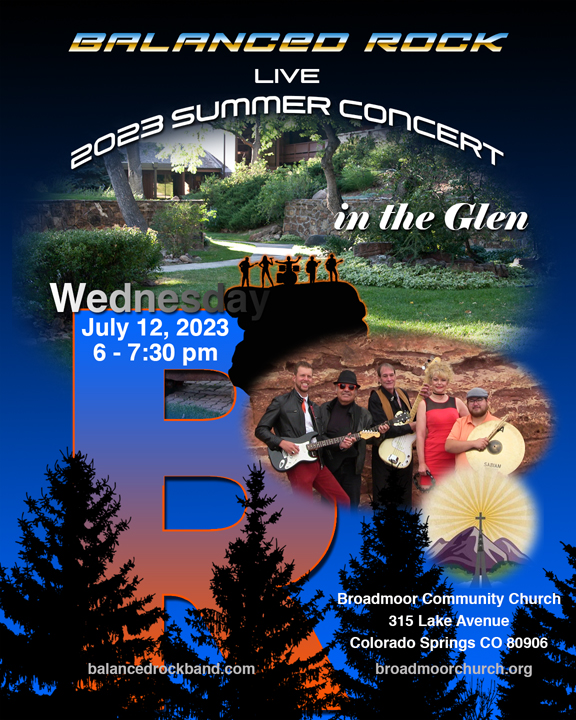 BALANCED ROCK ahave been invited to perform for the 2023 Summer Concert in the Glen at the Broadmoor Community Church located at 315 Lake Avenue in Colorado Springs, CO 80906 on Wednesday July 12, 2023 from 6:00 – 7:30 pm
PROMOTIONAL FLYER
STAGE FOOTPRINT
MUSIC REVIEW – MEDIA QUOTES

BALANCED ROCK received favorable review on the KRCC Music Digest on their sophomore CD release Urban Myths.
Vicky Gregor, long-time KRCC Music Director, hosts the weekly Music Digest highlighting a few of the tracks off the album.
"New music from a long time, hard working Colorado band that continues to evolve in its' songwriting and production ideas. The band settles in and unfolds nicely in the record's self-titled centerpiece, highlighting the confidence and pleasure they share with each other and the listener." Vicky Gregor KRCC Music Director
PROMOTIONAL PHOTOS
BALANCED ROCK promotional banner graphic
BALANCED ROCK Monochromatic promotional photo
PAST SHOWS
TOKKI – 128 E. Cheyenne Mountain Blvd Colorado Springs 80906 (May 5, 2023)
Louie's Pizza 333 N. Tejon Colorado Springs, CO 80903 (April 28, 2023)
Cheyenne Mountain Zoo – Electric Moonlight November 2021
Hillside Garden and Event Center – Colorado Springs, CO (August 2021)
Cliffhouse – Spires Ballroom Manitou Springs (November 2021)
Manitou Springs Library – Summer Concert Series (June 2021)
Colorado Springs Downtown – Starlight Cinema (June 2017)
BALANCED ROCK – READY TO ROLL (June 2016)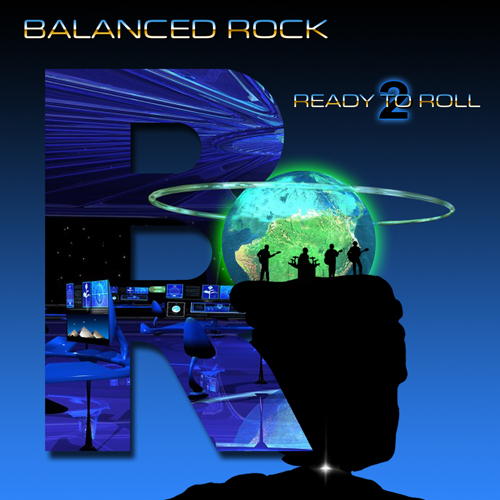 Listen to BALANCED ROCK 12-track debut album Ready To Roll in it's entirety on YouTube.