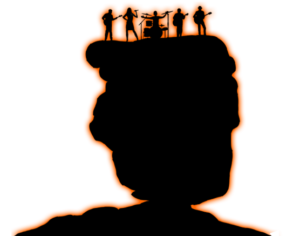 The Colorado-based rock band BALANCED ROCK is named after the famous 900-ton natural red sandstone rock formation located in the scenic Garden of the Gods nature site in their hometown of Colorado Springs, CO.
Balanced Rock vintage postcard.
Like the uniqueness and rarity that balanced rocks appear in nature shaped by the forces of nature windswept and the slow erosion of time, precariously perched seeming to defy gravity, likewise, the rock group BALANCED ROCK, is a one-of-a-kind musical force of nature.
BALANCED ROCK (l-r) Dan Santistevan, Roger Nutter, Andrea Fine, John Crawmer and Dryden Hill. Photo credit: Prudence Crawmer
banD mEMBERs
ANDREA FINE – Vocals
JOHN CRAWMER – Lead Guitar
Roger Nutter – Bass guitar
Dan Santistevan – Guitar
Dryden Hill – Drums/Percussion
BALANCED ROCK lead vocalist Andrea Fine brings her vocal prowess and dynamic stage presence which has expanded the perspective and direction of the band since she joined in 2018.
John Crawmer is the lead guitarist with soaring solos and passionate licks that tantalize the senses. Co-founding member Dan Santistevan on acoustic guitar provides songwriting and creative artistic direction for the band.
BALANCED ROCK has added two incredible musicians to include Roger Nutter on bass guitar, and Dryden Hill on drums/percussion and vibraphone. The band is ready to showcase the new musical lineup at their upcoming concert performances. To put it mildly, it's "Full Speed Ahead!"
URBan MYTHs
AVAILABLE ON ALL DIGITAL MEDIA OUTLETS
Urban Myths album cover.
BALANCED ROCK announces the release of Urban Myths a new full-length 10-track album. Listen to the full album on YouTube. Recorded and mixed by sound engineer Craig Lindley at Thin Air Studios in Colorado Springs, CO. Tracks mastered by Atomic Disc.
Album cover artwork by Beyondesign.
Contact US
Visit our Contact Us page for additional booking information.