URBAN MYTHS – CD ALBUM COVER
During the 2020-21 timeframe BALANCED ROCK musicians and recording engineer were able to work on material for the band's second full-length album entitled Urban Myths. The band has developed their own signature sound incorporating elements of rock, pop, metal and jazz experimenting with new styles in their musical repertoire. Listen to the full album on YouTube.
BITE THE BULLET – VIDEO
In March 2020, BALANCED ROCK musicians and video production team created a promotional video entitled Bite The Bullet. Shot on location at the scenic Red Rock Canyon Open Space in Colorado Springs, CO.
Mountain bike GoPro helmet-cam video footage was provided courtesy of Mr. Chris Nall who also the drummer on all 10 of the Urban Myths album tracks. Select the video icon to watch the video on our YouTube channel.
Photo credit: Brandon Santistevan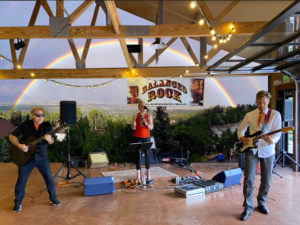 Photo credit: Prudence Crawmer
BALANCED ROCK performing at THE CHEYENNE MTN ZOO in COLORADO SPRINGS, CO, June 2021
Photo credit: Greg Panos
BALANCED ROCK performing at THE CHEYENNE MTN ZOO IN COLORADO SPRINGS DECEMBER 2021
Cathedral Spires Ballroom
BALANCED ROCK performing at THE CLIFFHOUSE IN MANITOU SPRINGS NOVEMBER 2021