BALANCED ROCK is a five-piece rock band based in Colorado Springs, Colorado founded in 2011, has become one of the premier recording artists in the Southern Colorado region.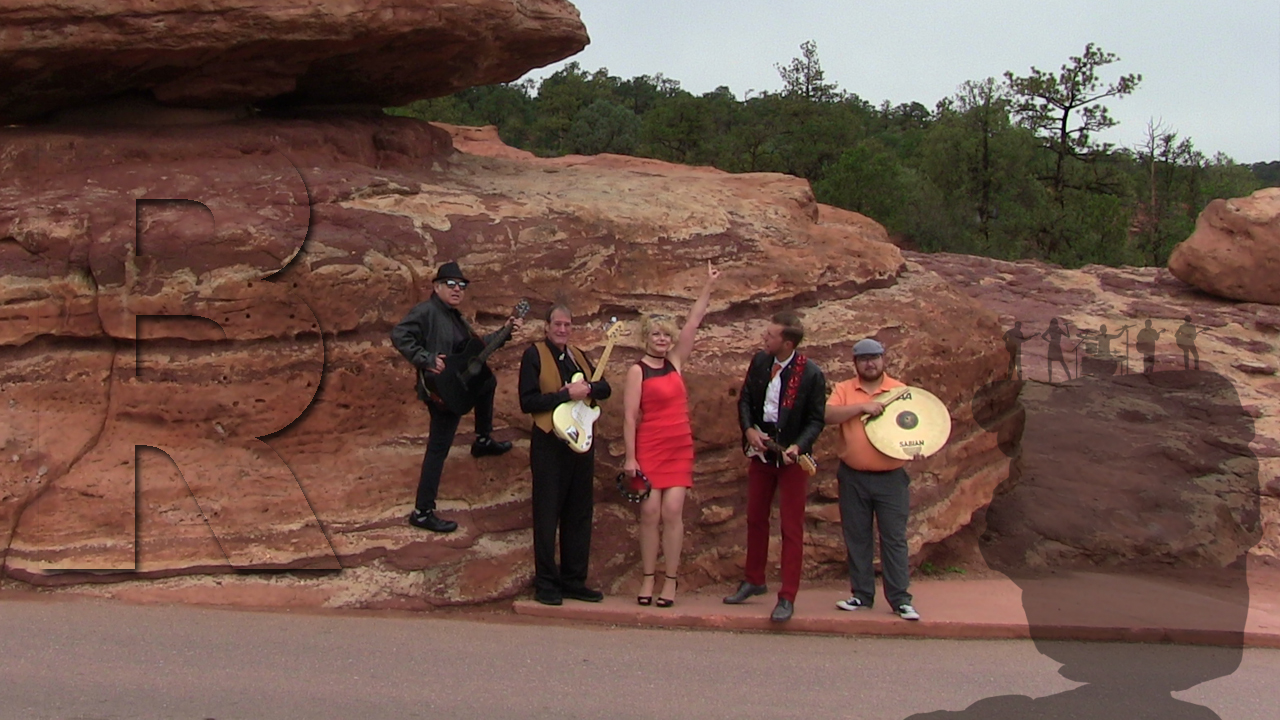 BALANCED ROCK posed at the base of The Balanced Rock formation (l-r) Dan Santistevan, Roger Nutter, Andrea Fine, John Crawmer and Dryden Hill. Photo: Prudence Crawmer
BALANCED ROCK's brand of music and repertoire includes both original compositions and sizzling cover renditions of favorite classic rock songs. The band is concert-ready to deliver a memorable musical concert performance.
musical lineup
Balanced Rock's brand of original music, combined with their Classic Rock cover tune renditions allows the band to experiment and expand their musical horizons and roots in rock.
Andrea Fine has become a tour de force since joining Balanced Rock in 2018. Herer dynamic stage presence and vocal prowess combines to deliver powerhouse lead vocals.
In 2014, guitarist John Crawmer joined Balanced Rock bringing his fire-brand style of guitar playing to the mix. His mastery of the electric guitar is second-to-none.
As a bassist, Roger Nutter has accompanied many fine musicians and vocalists, as well as being a member of various bands in the Southern Colorado and the New York/New Jersey area. In addition, Roger has been a music professor at Pikes Peak State College.
Dan Santistevan co-founding member of BALANCED ROCK, contributes to the songwriting effort playing acoustic guitar and writing lyrics. Dan also provides creative direction for the band with graphic design and artistic approach to branding.
Dryden Hill earned a degree in music from Adam State University majoring in percussion. During college Dryden played drums for a variety of bands in Colorado. Since joining BALANCED ROCK in June 2022, Dryden has become the heartbeat of the band.
BALANCED ROCK received favorable review on the KRCC Music Digest on their sophomore CD release Urban Myths.
Vicky Gregor, long-time KRCC Music Director, hosts the weekly Music Digest highlighting a few of the tracks off the album.
Read more selecting the KRCC Banner
"New music from a long time, hard working Colorado band that continues to evolve in its' songwriting and production ideas. The band settles in and unfolds nicely in the record's self-titled centerpiece, highlighting the confidence and pleasure they share with each other and the listener."
VICKY GREGOR
KRCC Music Director